Faith Presbyterian Preschool & Kindergarten celebrates 60 years in operation. The preschool was established in 1960 to serve the community as an educational arm of the total mission of Faith Presbyterian Church, to witness to the love of Christ.

If you are interested in additional information about our program or curriculum, please visit our website or call the preschool office at 385-0725. We are very proud of our preschool ministry.
Beverly Sims, Director
Preschool Sunday September 22, 2019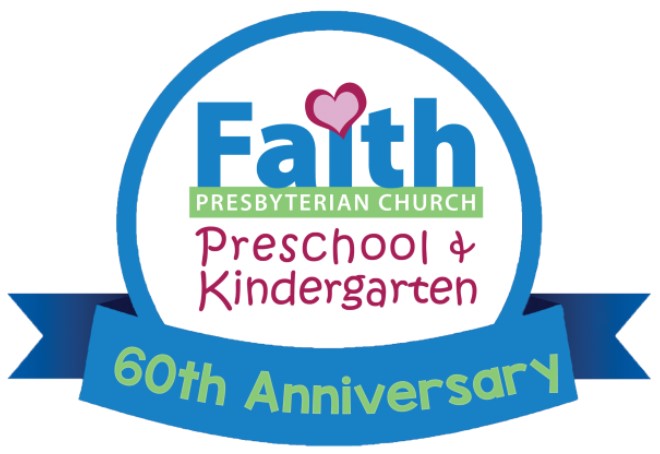 The Preschool Alumni Association and Faith Presbyterian Church are working hard to prepare for the upcoming 60th year Preschool Anniversary. Mark your calendars and please join us! If you would like to help, please click this link:
https://www.signupgenius.com/go/508084aa8a82ea75-faith

Friday, September 20:
Dinner on the grounds, 6-8 p.m.

Saturday, September 21
FSU/Louisville Alumni Tailgate Party

Sunday, September 22
Preschool Sunday worship, 10:30 a.m., followed by lunch in Fellowship Hall
Dear Faith Family,
Faith Preschool & Kindergarten is approaching its 60th anniversary. As previously announced, our dear Beverly Sims will be retiring at the end of the 2019-20 school year. During this transition process, a Director Search Committee has been appointed to interview and select the best and most qualified person to continue to lead the Preschool. The committee expects to begin accepting resumes in October 2019, and to begin interviews in January 2020.
A Preschool Strategic Planning Committee has also been formed that will identify a 5 year Vision Statement for the Preschool. Some of the ideas that have been discussed include the possibility of providing (a) an expanded summer program and (b) early childcare for infants through 24 months old. If there are any changes, nothing will be implemented before 2022.

Leadership is looking for feedback from our parents, teachers, and church members to best determine the direction for the preschool. As one part of this process, we invite you to complete this survey, which will take about 10 minutes. Please submit your response no later than August 30, 2019. Your prayerful responses to this survey are strongly encouraged as they will inform the direction of the Preschool for years to come. As background information to inform your responses to the survey, we have developed a one-page Overview of our preschool and the many ways that our preschool shines throughout the community. Please below to access the overview.
To take the survey, please click this link:
https://fsu.qualtrics.com/jfe/form/SV_ewGARz0DxkEL0vb
In addition, the Strategic Planning Committee will host two Listening Sessions for preschool parents and church members to share their thoughts with the committee; these Listening Sessions will be Thursday, September 5 from 6:00-7:00, and Sunday, September 8, from 11:45-12:45, in the Fellowship Hall. You are invited to attend either meeting.
Thank you in advance for your time, consideration and feedback. If you have any questions about the survey or future direction of Faith Preschool, please email the Strategic Planning Committee Chairs, Gaynell Larkin at or Darby Scott at or either of us. Thank you so much for your continued support of the preschool ministry.
Rev. Brad Clayton
Ginny Dailey