It's Pumpkin Time!
The Pumpkin Patch kicks off on Sunday, October 6, at 6 p.m. in Fellowship Hall with BBQ, a scarecrow decorating contest, and a pie baking contest! Cost for the meal is $4 for children and youth, and $8 for adults, with a family maximum of $20. We need people to donate side items for the kickoff. We need double batches of mac & cheese, baked beans, and coleslaw. Sign up using this link:
There are extra Boston butts for sale for $30; to reserve yours, please email .
The scarecrow contest categories are:
Best Scarecrow Submitted by a Group
Most Humorous
Best Traditional
Best in Show
We will open Fellowship Hall at 5 p.m. on the 6th for those who would like to get an early start on their scarecrows. This year, we are encouraging groups/families to create scarecrows that feature characters from our Spooky Movie selections. If you would like to reserve your character scarecrow or a frame for another type of scarecrow, please use this link:

CHARACTER SCARECROW OR FRAME
Pie contest categories are: pumpkin, fruit, and wild care. Please no not bring pies that contain nuts. You can sign up for the pie contest using this link:

Sign up for pie contest
Pumpkins will be delivered to Faith on Wednesdays, October 9, 16, and 23, at 4 p.m., and we need folks of all ages to help move pumpkins from the truck to the Patch. Please bring a wheelbarrow or wagon, grubby clothes, and strong backs!
We need people to donate baked goods for sale at the Patch. If you would like to help with that, you can sign up using this link:
Volunteer to staff the patch:
Story Time: Read, Paint Faces, Tour Guide:
---
Spooky Movies in the Patch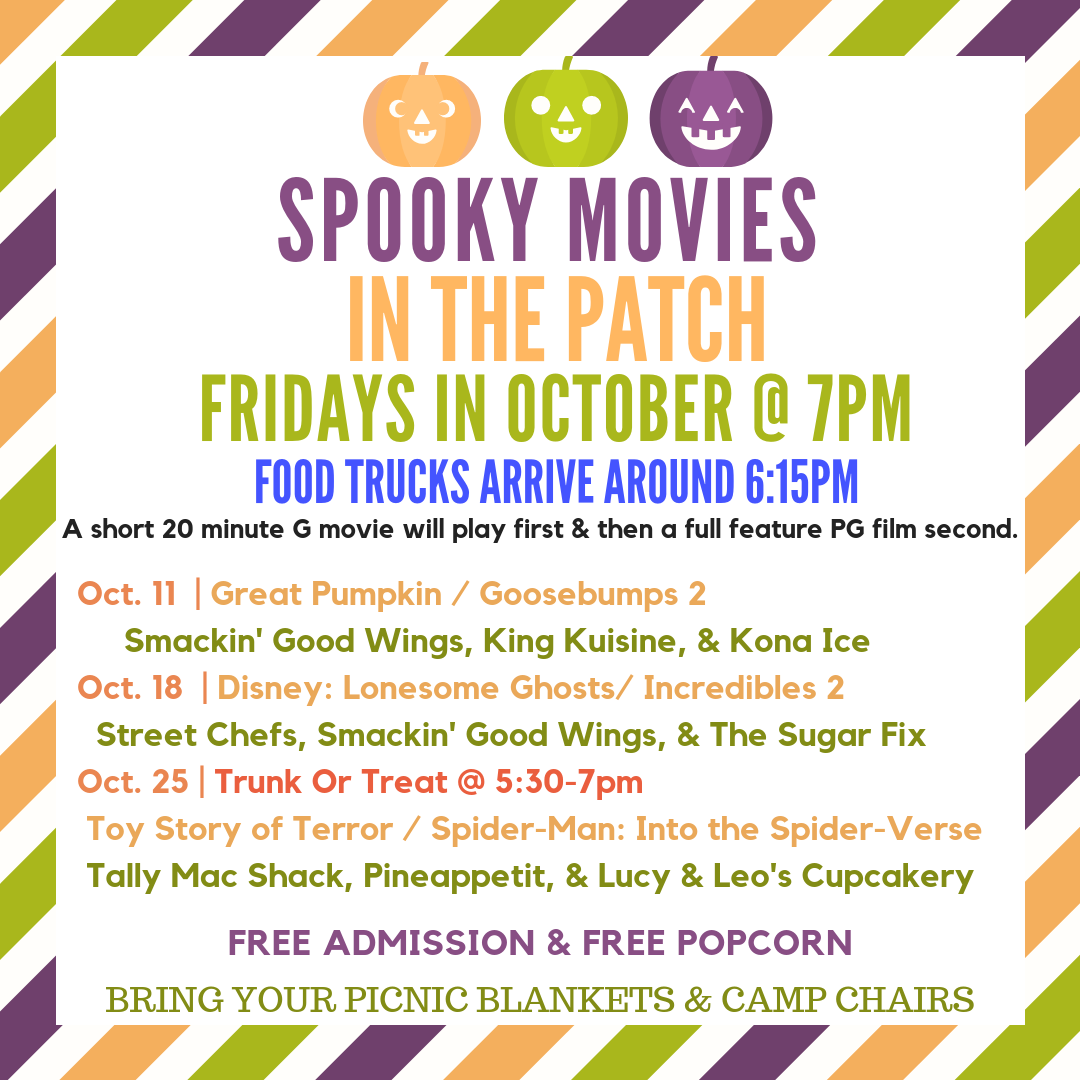 ---
Trunk or Treat
Everyone is invited to Trunk or Treat on Friday, October 25, 5:30-7 p.m. Bring your car, costume, and candy to give out to the children as they go from car trunk to car trunk. Hot dogs and drinks will be provided. After Trunk or Treat, plan to stay for Spooky Movies in the Patch. We are now collecting candy bags (no nuts) for Trunk or Treat in locations all around the church! We had a amazing turn out of both church and neighbors last year, so let's make sure we have enough for all. Please, no scary trunks or costumes as this is an event for children in our community. Sign up to help with food, games, and to decorate and host your vehicles here:

Trunk or Treat Signup