sermon series: The sacraments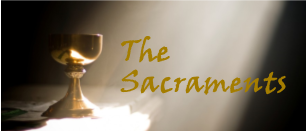 November 3: What is Sacred? Matthew 23:13-22, Brad Clayton
The two sacraments are set apart in the Reformed faith. Jesus calls us to celebrate the Lord's Supper in remembrance and calls us to baptize people of all nations. What makes something sacred? What is the difference between an idol and something sacred?
November 10: Water Into Wine, John 2:1-11, Brad Clayton
Jesus' first miracle in the Gospel of John took place at a wedding. As they celebrated as friends and family, the wine ran out and Jesus turned water into wine. Wine is one of the elements that we use during communion. Wine -- at the wedding at Cana and at the Passover -- reminds us that we should celebrate and be joyful because of the gracious love of God.
November 17: Bread of Life, John 6:22-40, Trinity Whitley
Each region of the world has its own staple food. For Ireland, it has always been potatoes. Southerners have their grits. Other parts of the world use noodles, or rice, or tortillas. These basic staple foods fill their stomach and answer their hunger. Jesus Christ tells us that we look for sustenance in all the wrong places. It is Christ alone that sustains us, and it is Christ who calls us to faithfulness.
November 24: Water of Life, John 4:7-30, Brad Clayton
Water is used all throughout the Bible as a symbol of life and death and life again. Water keeps us clean. Water keeps us alive. Water is so constant and powerful that it can erode the earth and change the shape of our planet. Water is a symbol for God, for God gives us life, cares for us in death and God changes the world through God's constant and powerful love.