Men's Breakfast is on 1st and 3rd Friday mornings at 7 a.m., in Fellowship Hall. Contact Bill Hollimon for more information. Note that the Men's Breakfast will not meet in July.
---
Wednesday Night Alive. Join us at 5 p.m. in Fellowship Hall for dinner! Cost is $3/children, $5/adults, family max ($18). Programs for youth and children begin at 5:30 p.m.; adult programs begin at 6 p.m.
---
Faith Formation. Join Len Turner for an exploration of the Apostles Creed on Wednesday evenings at 6 p.m. in the Parlor.
---
Jubilee
Sunday, September 22, is our annual Jubilee Luncheon and Celebration. We'll come fellowship with each other and enjoy some great food, dessert, bounce houses and games. Please bring a dish to share (nut free) according to your last name:
A-D main dish; E-K: veggie/side; L-S salad, T-Z: dessert
There are also a myriad of other ways you can help: from set-up to clean-up, to manning games, bringing cupcakes for the cupcake walk, setting up the big tent and/or the bounce houses, etc. Please use this link:
---
Preschool Sunday September 22, 2019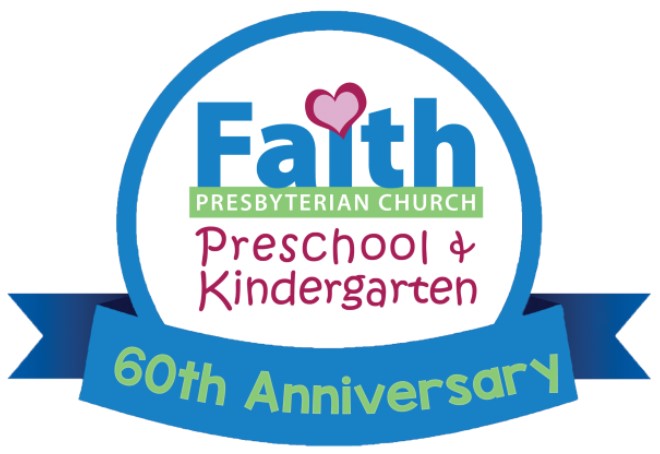 The Preschool Alumni Association and Faith Presbyterian Church are working hard to prepare for the upcoming 60th year Preschool Anniversary. Mark your calendars and please join us!
Friday, September 20: Dinner on the grounds, 6-8 p.m. ($10/person of $30/family).
Saturday, September 21: FSU/Louisville Alumni Tailgate Party
Tailgate Party Details & Signup
Sunday, September 22: Preschool Sunday worship, 10:30 a.m., followed by lunch in Fellowship Hall. Please bring a dish to share according to the first letter of your last name:
A-D/main dish; E-K/veggie or side; L-S/salad; T-Z/dessert.
Sign up for any of the Preschool Homecoming events here:

preschool homecoming events
---
Pumpkins! We need lots of hands to help with Pumpkin Patch! Please visit the pumpkin page here for more information and to sign up.
---